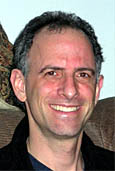 STEFAN GONICK, the principal of Database WebWorks, has a Masters Degree in Computer Science and 25 years of programming experience. He excels at developing web sites with intuitive, easy-to-use user interfaces. He strives to get a thorough understanding of a client's needs and is conscientious in making sure that a client gets what she/he wants.
Frequent contact with the client throughout the development process ensures that the application is on track and provides multiple opportunities for feedback, clarification and fine tuning.
Please contact Stefan if you have any questions about deploying your database information on the Internet. He can be reached at (413) 527-5491 or via email.

Graphic Design & Marketing


MARITA SACCHETTI, web site and graphic designer, has been involved in various aspects of design spanning the past 25 years, including clothing design, landscape design, fabric decorating, painting, photography, desktop publishing and ultimately digital design.
Combining a love of technology with a passion for design - she started a web site design business six years ago. But design alone doesn't cut it! Understanding Internet trends and the underlying technology to make design work is essential to a successful web site. Her enthusiasm for new technologies is driven by the potential it offers to increase her own creativity and productivity, and ultimately deliver improved profitability for her clients.
Stefan and Marita have partnered on many projects over the years and work exceptionally well together to create high-end web sites that are user-friendly, professional and effective!